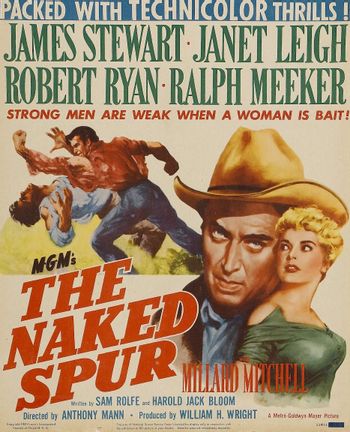 The Naked Spur is a 1953 Western film directed by Anthony Mann, starring James Stewart, Janet Leigh, and Robert Ryan.
Howard Kemp (Stewart), an embittered former rancher, is now a bounty hunter chasing Ben Vandegroat (Ryan), a fugitive wanted for murder in Abilene. He meets a prospector, Jesse Tate (Millard Mitchell), who assumes Kemp is a lawman and guides him to where Kemp saw some tracks. They trap Vandegroat on top of a hill but can't get at him, not until they run across a disgraced Army lieutenant, Roy Anderson (Ralph Meeker), who also agrees to help.
The three of them catch Vandegroat but find out in the process that he is travelling with a very good-looking young woman, Lina Patch (Leigh), whose late father was Vandegroat's best friend. Tate and Anderson get a second surprise when they find out that Kemp isn't a lawman but instead is a bounty hunter; they promptly demand a three-way split of the $5000 reward. The five of them then start a tense trip back to Abilene, with Vandegroat playing the other three men off against each other as the three men clash over both the reward and possession of Lina.
Considered one of Stewart's more memorable late-career roles, and one of several movies during The '50s where he played angrier, more bitter characters. Has a place on the National Film Registry.
---
Tropes: