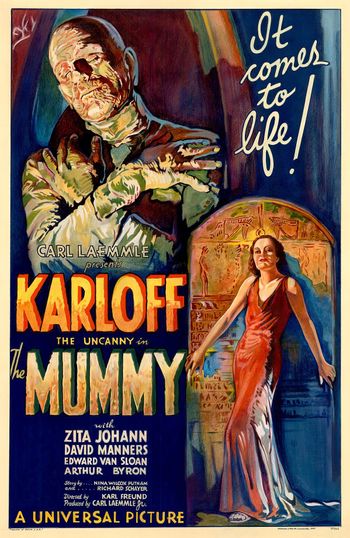 Universal Horror presents us this 1932 film, which was the Trope Maker for the undead Mummy genre.note Although the Trope Codifier for many of the tropes was its successor, The Mummy's Hand. Also, mummy stories of one sort or another had already been popular in print for a hundred years, with stories by Bram Stoker, Edgar Allan Poe, and many others.
We open in Egypt (where else?), at a British excavation site. A mummy of high priest Imhotep (Boris Karloff) has been found and with it the scroll of Thoth, a key to bring back the dead. After one foolhardy assistant reads the scroll, the mummy comes alive, then proceeds to snatch the scroll and shamble away, leaving the assistant a mess of mad laughter.
Cut to ten years later, a mysterious man named Ardeth Bey assists archaeologists in uncovering the tomb of Princess Anck-es-en-Amon. However, he doesn't do this out of kindness, as he has plans of his own...
The Mummy was directed by Karl Freund. It was semi-remade in 1940 (The Mummy's Hand, which itself spawned several sequels), 1959 (The Mummy, a Hammer Horror production featuring Christopher Lee as the title creature and based more on the 1940 film than the 1932 original), 1999 (The Mummy), and 2017 (The Mummy).
It is one of many films included in the "Universal Horror" canon, and the first to be an original story rather than based on a novel after Dracula and Frankenstein showed how successful such films could be the previous year.
---
This film has the examples of:
---