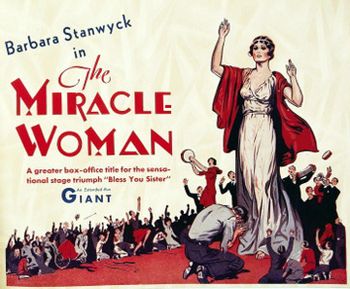 The Miracle Woman (1931) begins with Florence Fallon (Barbara Stanwyck) embittered and angry: after serving the church for many years, her father dies heartbroken, knowing that he's being turned out, poor and all, just because the congregation wants to replace him with a younger preacher. Florence calls them out for the hypocrites that they are, making them leave in disgust.
Left with nowhere to go, she meets Con Man Bob Hornsby (Sam Hardy) who is impressed by her command of stage and presence. He tells her she can get her revenge and a few bucks too, thus inspiring the creation of a church, The Temple of Happiness. She becomes the main attraction; she is a healer, a miracle woman. Undoubtedly, this is a sham to greedily gain money, and the men and women that she "cures" are paid, unbeknownst to the audience.
Feeding on ignorance and blind faith, her words are strong enough to bring in crowds of believers. Over the radio, John Carson (David Manners) hears Florence's convincing sermon right before he decides to end it all; he's a failed musician and was recently made blind. He's therefore happy to find a new purpose in searching out to meet Florence. Amidst all the greed and corruption, lies and deceit, she is quite taken aback by someone so full of faith and so blind (no pun intended) to the sham that she really is.
Together, they are both catalysts; ridding one of blind faith and restoring faith in another.
This is the second collaboration between director Frank Capra and Stanwyck. The film's credits open with this line: "The Miracle Woman" is offered as a rebuke to anyone who, under the cloak of Religion, seeks to sell for gold, God's choicest gift to Humanity —— FAITH." Powerful words for 1931.
---
This film contains the following tropes:
---