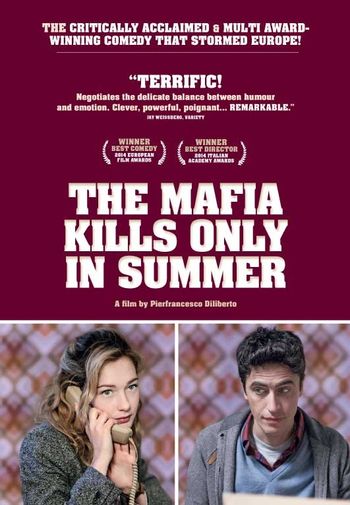 The Mafia Kills Only in the Summer (original title: La mafia uccide solo d'estate) is a 2013 drama/comedy film that marks the directorial debut of Pif a.k.a. Pierfrancesco Diliberto, an Italian television host, actor and humorist most famous for his program "Il Testimone" (The Witness), a documentary-like look to several everyday life events and stories done in a competent yet satirical tone.
Pif uses the same approach for this film that tells the life of Arturo, a kid born in Palermo, whose entire life is inextricably linked to the Mafia that extended its influence all over the city, Sicily and beyond, and who later grows to be a journalist. The film is notable for its juxtaposition of fiction and actual footage of newsreels, and a style that is alternately satirical, candidly humorous and bleakly realistic. Expect Mood Whiplash every ten minutes or so.
The film won the prize for Best Comedy at the 27th European Film Awards.
It has been adapted into a successful TV Series, with Pif as narrator.
---
The film provides examples of:
Mood Whiplash: Everywhere, especially when accounting Pif's snarky narration over real-life footage of newsreels, cleverly inserted into the film.

The biggest example is probably when, after a comedic scene where Totò Riina doesn't understand how air conditioning works and is seen futzing with the remote, another mafioso (probably Giovanni Brusca) is seen pushing the button of the remote which detonated the explosives that murdered judge Giovanni Falcone, his wife and three policemen.

Title Drop: The title comes from a speech Arturo's dad makes to him when he's a kid, telling him not to be scared because it's winter and the mafia only kills in summer.
---