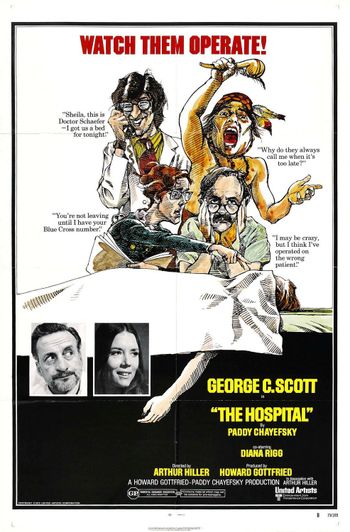 "On Monday morning, a patient named Guernsey—male, middle 70s—was admitted to the hospital complaining of chest pains. He had been referred by a nursing home, where the doctor had diagnosed his condition as angina pectoris. It is axiomatic that nursing home doctors are always wrong. The intern who admitted Mr. Guernsey, however, accepted the diagnosis and prescribed morphine: a drug suitable for angina, but not at all suitable for emphysema, which is unfortunately what the old man actually had."
The Hospital is a 1971 satirical film, written by Paddy Chayefsky and directed by Arthur Hiller.
Dr. Herbert Bock (George C. Scott) is the Chief of Medicine at a large Manhattan hospital. The chaos of his personal life (separation from his wife, alienation from his children) is matched by the chaos of his hospital, where overcrowding, bureaucratic red tape, and an incompetent staff have made things a mess. As Bock harbors suicidal thoughts, a young doctor is found dead in a patient's bed, under mysterious circumstances. On top of all this, the hospital is also facing protests from activist groups over a proposed annexation of a nearby apartment building. Just as things seem like they can't get any worse, more hospital staffers suffer mysterious deaths.
Another complication for Dr. Bock comes in the form of Barbara Drummond (Diana Rigg), the daughter of a patient who's in a coma. Barbara wants to move her father back to the village in Mexico where he works as a missionary, where she plans to serves as his nurse. But she soon comes to realize that it might be Dr. Bock who desperately needs her attention.
A big hit with critics and audiences, this film earned Chayefsky his second Academy Award for Best Screenplay (after Marty). Stockard Channing made her film debut in a bit part as an ER nurse.
---
Tropes in Room 806:
---