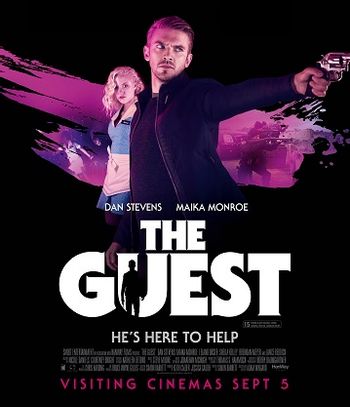 David: I do not wanna hear anything further about this young man being harassed, do we understand each other?
Principal Alston: I believe we do, Mister... who are you?!
David: I'm a friend of the family.
The Guest is a 2014 Thriller film directed by Adam Wingard (You're Next, V/H/S). The story consists of the Peterson family who are visited by a mysterious stranger, David (Dan Stevens), who claims to be a comrade of their deceased son, Caleb. Polite and charming, he makes himself comfortable in the family.
But is he who he claims to be?
On April 1st, 2022, a compilation / concept album entitled "The Guest 2 (Original Soundtrack)" was released, serving as a kind of pseudo-sequel to the original film.
---
The film has the following tropes:
---