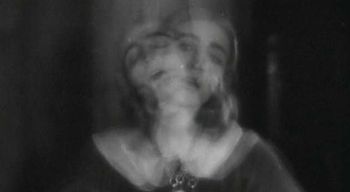 The Fall of the House of Usher is a 1928 film from France, directed by Jean Epstein, with a screenplay co-written by Epstein and a young Luis Buñuel. It is an adaptation of the famous story The Fall of the House of Usher by Edgar Allan Poe.
An old man named Allan arrives at the spooky, crumbling mansion occupied by Roderick Usher and his wife Madeline. The men of the Usher family are compelled to paint portraits of their loved ones, and so does Roderick, who is obsessed with his portrait of Madeline. Roderick doesn't let his own high fever stop him from painting, and he doesn't notice that his wife is getting sicker as the portrait nears completion.
Finally Roderick finishes the portrait, just in time for Madeline to collapse and die. Roderick insists on burying Madeline in the family tomb, and he insists on not nailing the coffin shut, an order that his servants ignore. After Madeline dies, Roderick stops painting, instead sitting in his study all day, waiting motionlessly for something to happen. And then Madeline's coffin slips off its platform...
One of many film adaptations of Poe's story, including an American short film also made in 1928, and a 1960 adaptation starring Vincent Price.
---
Tropes:
---