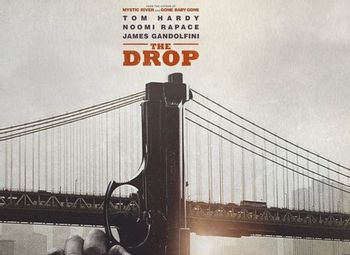 The Drop is a 2014 crime film directed by Michaël R. Roskam and starring James Gandolfini (in his final role before his death), Tom Hardy, and Noomi Rapace.
"Cousin Marv" and Bob (James and Tom respectively) work at a bar Cousin Marv used to own, until he lost it to Chechen mobsters. Their bar is occasionally the drop bar for a given night's mob money. Their lives become complicated when they get robbed, and the Chechens suspect they might be working with the thieves. To add to their woes, Bob finds and rescues a beaten dog thrown into a woman's dumpster. Bob befriends Nadia (Noomi) in the process, only for the dog's former owner, a drug-addled psychopath who claims to have murdered a friend of theirs in the past, to come into the picture.
This film is the last one that James Gandolfini acted in, having died of heart complications the same year. It was well-received, and currently holds 89% score
on Rotten Tomatoes.
Has nothing to do with the freeware Roguelike that has the same name and is the sequel to The Reconstruction.
---
The film provides examples of:
---