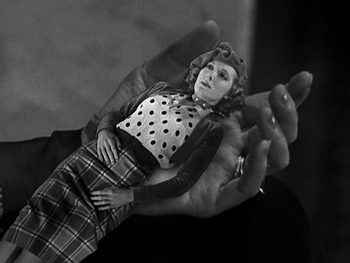 The Devil-Doll is a 1936 horror film directed by Tod Browning, starring Lionel Barrymore.
It's about a wrongfully convicted French banker, Paul Levonde, who is accused of robbing his own bank and murdering the night watchman. In reality he was framed by three business associates who were the ones who actually committed the crime. After spending 17 years in someplace that is vaguely implied to be Devil's Island, he escapes along with another prisoner. The other prisoner, Marcel, turns out to be a Mad Scientist type who has perfected a way to shrink people to 1/6 normal size. This fits in perfectly with Levonde's plans for revenge.
The next-to-last film directed by Browning, whose career never recovered from the extremely negative reception given to Freaks. Erich von Stroheim, whose own career had also been in the dumps since The Roaring '20s, co-wrote the screenplay.
Not to be confused with the movie Devil Doll, made in 1964, or with the Slovenian/Italian band Devil Doll, who named themselves after Browning's film.
---
The Devil-Doll provides examples of the following tropes:
---