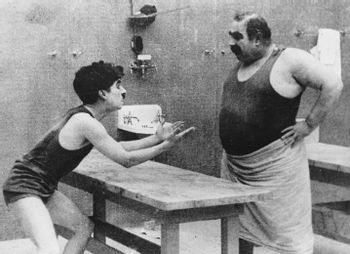 The Cure is a 1917 short comedy film directed by and starring Charlie Chaplin.
Here Chaplin plays not his usual Tramp character, but a drunken rich fop who has been sent to a health spa to dry out. While there he manages to irritate a large man (Eric Campbell, Chaplin's regular heavy) and romance a pretty girl (Edna Purviance). Apparently he's there involuntarily, because he certainly isn't going to stop drinking, health spa or no health spa.
Not to be confused with the post-punk group or the 1995 feature film staring Brad Renfro.
---
Tropes:
---