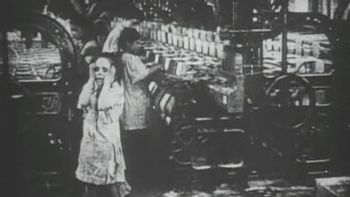 The Cry of the Children is a 28-minute 1912 film about the dangers of child labor. The film centers on a desperately poor family, consisting of a mother, father, and three children, who live near a textile mill where they are employed. The parents and the two older children work in the mill, performing backbreaking labor that leaves them shuffling and exhausted when their day finally ends. However, the youngest child, impossibly cute little Alice, is left at home, protected from the brutality of the mill.
One day, the rich mill owner's rich, pampered wife is driving home and sees little Alice skipping through the neighborhood. She tries to adopt Alice, but Alice clings to her parents and the father declines. Then the mill owner's wife brings her husband, who tries to buy Alice, but Alice's parents once again refuse. The mill workers go on strike, wanting a living wage, but the owner waits them out and eventually starvation forces them back to work. Alice's mother's health, which was poor to begin with, is now so bad that she can't work, so Alice has to take her mother's place at the mill. Alice tries to get the mill owner's wife to adopt her, but now Alice is gaunt and haggard and much less cute, so the owner's wife sends her away. Alice goes back to work at the mill, where she slaves away until she collapses and dies on the factory floor.
The Cry of the Children is an uncompromising look at the horrors of child labor, which was a major issue in the United States in 1912. The factory scenes were filmed at an actual textile mill. The film is listed on the National Film Registry.
---
The Cry of the Children contains examples of:
---