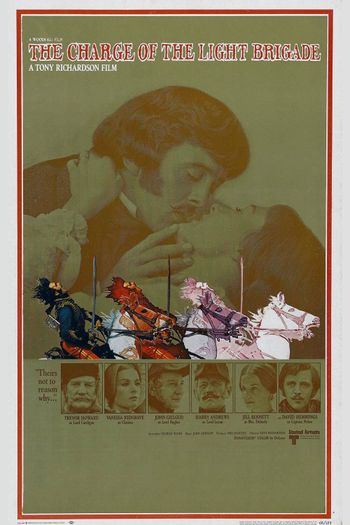 The Charge of the Light Brigade is a 1968 film directed by Tony Richardson, loosely adapted from Cecil Woodham-Smith's 1953 nonfiction book The Reason Why: The True Story of the Fatal Charge of the Light Brigade. The cast includes Trevor Howard, Vanessa Redgrave, David Hemmings, Jill Bennett, John Gielgud, and Harry Andrews. It takes its title from the famous poem by Alfred, Lord Tennyson.
The movie depicts the circumstances surrounding the famous Charge of the Light Brigade at the Battle of Balaclava (October 25th, 1854) during The Crimean War. Its protagonist is Captain Louis Nolan (Hemmings), a dashing young Cavalry Officer assigned to the 11th Hussars. He immediately clashes with Lord Cardigan (Howard), the regiment's arrogant Colonel, who fans a minor disagreement with Nolan into a national scandal (the "black bottle affair"). Nolan also carries on an affair with Clarissa (Redgrave), the wife of another officer. Both men serve in the war, where Cardigan leads the Light Brigade under division commander (and hated brother-in-law) Lord Lucan (Andrews). Nolan, now an aide to commander-in-chief Lord Raglan (Gielgud), grows disgusted with mismanagement of the war and helps initiate the titular charge.
Light Brigade is a vicious satire of both the British class structure and military incompetence. It mixes often comic scenes of Cardigan, Lucan and Raglan's ineptitude with violent battle scenes and anger at aristocratic bigotry. The movie is also noteworthy for animated sequences provided by Richard Williams. While the movie bombed in its original release, it's gained a strong critical reputation in subsequent decades.
Not to be confused with the 1936 film starring Errol Flynn, with which it only shares a title.
---
Contains examples of:
---