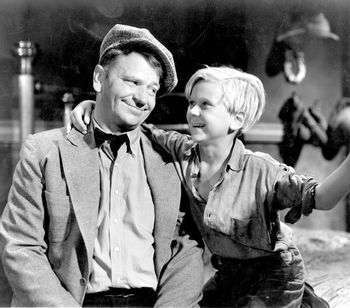 The Champ is a 1931 Tear Jerker Melodrama directed by King Vidor, starring Wallace Beery and child star Jackie Cooper.
Beery is Andy, "the champ", a former heavyweight boxing champion who lost his title due to alcoholism and now is a washed-up fighter eking out a meager existence in Tijuana. The only bright spot in his life is his precocious, adorable eight-year-old son Dink (Cooper). In addition to being an alcoholic, Andy has a gambling habit, and one night he has enough luck playing dice to win a bunch of money. He gets Dink a racehorse. Andy and Dink take the horse to a racetrack, where they meet a fancy rich lady and her rich husband. The fancy lady turns out to be Dink's long-lost mother, who is living in considerably more comfortable circumstances than her impoverished ex-husband. Sure enough, Dink's mother decides that she wants him back.
Even in 1931, The Champ was attacked for its melodrama and sentimentality, but the strong performances of Cooper and Beery help sell the story. The Champ was nominated for four Oscars and won two, including the Academy Award for Best Actor for Beery. Beery actually received one less vote than Frederic March did for Dr. Jekyll and Mr. Hyde (1931), but under an Academy rule of the day any result decided by less than three votes was considered a tie, so both Beery and March received awards.
A remake, directed by Franco Zeffirelli and starring Jon Voight and Rick Schroder, was released in 1979.
---
Tropes: