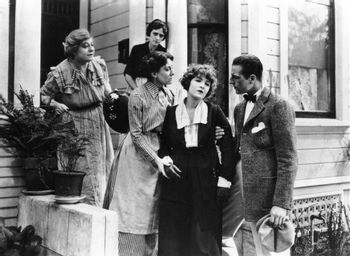 The Blot is a 1921 film directed by Lois Weber.
Andrew Griggs is a professor at what appears to be a pretty fancy college, but nevertheless he is still paid only starvation wages—literally starvation wages, as his family often doesn't have enough to eat, and Mrs. Griggs feeds the family cat by letting it scavenge from the neighbors' trash can. Mrs. Griggs feels keenly the poverty suffered by the Griggs family, which is only made worse by their neighbors, the Olsens. Mr. Olsen is making a handsome living as a maker of luxury shoes, and the Olsens enjoy rich sumptuous dinners and drive a car, while the Griggses suffer hunger, and daughter Amelia (Claire Windsor) has to walk to her job at the library in threadbare shoes that she is constantly mending.
One of Prof. Griggs' students is callow rich boy Phil West, who goofs off and doesn't pay attention during lectures, but has taken a fancy to lovely Amelia. One day Phil gives Amelia a ride home, and after he sees how down-at-the-heels the Griggs family is, he starts to grow a social conscience. The situation grows worse when lack of regular food causes Amelia to have dizzy spells which have her committed to bed. Mrs. Griggs, desperate to get the nourishing food her daughter needs, starts to cast envious glances at the plump chicken sitting on the Olsen dinner table across the way.
Lois Weber was one of the first women directors in Hollywood—her 1914 adaptation of The Merchant of Venice is believed to be the first feature film ever directed by a woman. Louis Calhern, who plays Phil, would go on to a long and highly successful career as a character actor.
---
Tropes: