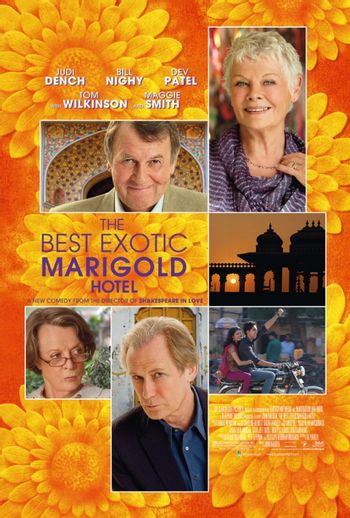 The Best Exotic Marigold Hotel is a 2011 film starring Judi Dench, Bill Nighy, Penelope Wilton, Ronald Pickup, Celia Imrie, Tom Wilkinson, Maggie Smith and Dev Patel. Its seven main characters are retired British people, who are all staying at the eponymous hotel after despairing of life back in Blighty.
Evelyn is recently-widowed and is forced to sell her home to pay off her deceased husband's debts, leaving her facing having to move in with her well-meaning but patronising son and his family.
Muriel is a rather racist old lady who's in badly in need of a hip-replacement, with the choice of either sitting on a 6-month waiting list to get the operation done in England, or letting the hospital outsource her to India (which is full of Indians(!)).
Douglas and Jean are a recently-retired couple who are left short of funds after an apparently unwise investment of their retirement fund, and who don't yet feel they're anywhere near old enough to move into the sheltered accommodation that they can afford.
Graham is a High Court judge who, having threatened for years to retire "any day now," walks out part way through a colleague's retirement party, declaring that "Today is the day."
Norman and Madge are both single, past their best, and lonely. Madge wants a wealthy husband so that she can live out her twilight years in comfort and luxury; while Norman is struggling to deal with the sex drive of a teenager in the body of a pensioner.
And Sonny is an enthusiastic young man who has inherited a "characterful" hotel from his late father, and who isn't going to let a little thing like cold, stark reality get in the way of his dreams.
A sequel, entitled The Second Best Exotic Marigold Hotel, was released February 2015, with all surviving main characters returning, and David Strathairn and Richard Gere playing main roles.
---
This film provides examples of:
Anything That Moves: Norman, most definitely, and apparently Madge as well.

Madge Don't be. It's the most action I've had in weeks!

Arc Words: "I believe that everything will be alright in the end. And if everything is not alright, then it is not the end." Which is a Shout-Out to Om Shanti Om, no less.
Arranged Marriage: Sonny's mum wants to marry him off to a wealthy girl from Delhi.
Big Brother Instinct: Sunina's older brother doesn't approve of her relationship with Sonny, though he gets some respect for Sonny when he stands up to him.
Bollywood Nerd: Subverted. Sonny tries to present himself as a precocious business genius, but he is horrible at running the hotel and seems to have problems with maths.
Brick Joke: When the guests arrive at the hotel, Madge swaps rooms with Sonny because hers doesn't have a door and his does. It seems like a throwaway line at first, until later in the movie where Sunaina ends up naked in bed with Madge.
Bury Your Gays:

Graham

. Almost immediately after his subplot is complete. No need for him to have a supporting role in a sequel.
Chekhov's Skill:

Muriel

's former occupation proves to be rather important in the final act.
Cloud Cuckoolander: Sonny's exuberant personality, combined with his pie in the sky ideas and general lack of business acumen, cause many people to label him a lunatic.
Cool Old Guy and Cool Old Lady: Simply put, it's their movie.

A perhaps defining moment is when

Graham comes out to his new friends as gay

, and nobody so much as bats an eyelid. Given their age-range, this is particularly surprising.
The sequel provides examples of:
---