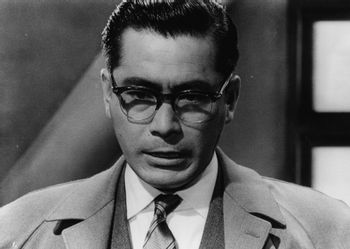 The Bad Sleep Well is a 1960 film directed by Akira Kurosawa and starring Toshiro Mifune.
The film opens with the wedding of Yoshiko, daughter of Unexploited Land Development Corporation executive Iwabuchi, to Iwabuchi's secretary Nishi (Mifune). The wedding does not go smoothly, as Wada, one of Iwabuchi's subordinates, is arrested on charges of bribery as part of a kickback scheme in which the government awarded fraudulent bids to Land Development. A phalanx of reporters at the wedding fire questions at Wada, and provide exposition explaining that five years ago, a similar public corruption scandal with Land Development was brought to an abrupt end when Furuya, another low-level Land Development executive, flung himself to his death from the window of his office at corporate headquarters.
Someone else knows about Furuya: a cake sent to the wedding is in the shape of corporate headquarters with a flower in the window that Furuya jumped from. And the police are getting tips from a mole inside Land Development. It turns out the mole is none other than Nishi, Iwabuchi's dutiful secretary, who is Furuya's secret illegitimate son, and is bent on revenge.
The Bad Sleep Well is a loose adaptation of Hamlet—very loose, actually, being less faithful to the source than Kurosawa's other Shakespeare adaptations Throne of Blood and Ran. It was the first film made by Kurosawa's own production company, although it was still distributed by Toho. Viewers more familiar with Toshiro Mifune from his costume dramas with Kurosawa such as Throne of Blood and The Seven Samurai may be surprised to see him as a bespectacled businessman in a three-piece suit.
---
Tropes:
---