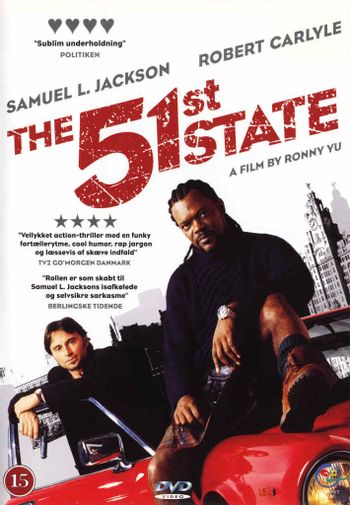 Known as Formula 51 in the United States, this is a 2001 British action-comedy film directed by Ronny Yu and starring Samuel L. Jackson.
It's about a pharmacologist named Elmo McElroy (Jackson) attempting to peddle the formula for a new drug he's created called POS 51, which he claims is "fifty-one times more powerful than cocaine, fifty-one times more hallucinogenic than acid, fifty-one times more explosive than ecstasy."
When the deal goes wrong and everyone involved ends up dead, he realises that his ex-boss, a drug kingpin known as "The Lizard" (Meat Loaf), whom he thought he'd already killed to prevent him seizing the drug for himself, is very much alive and would like revenge. Assisting the Lizard is Professional Killer Dakota (Emily Mortimer), the expat ex-girlfriend of his British contact, Felix DeSouza (Robert Carlyle). Assisting neither party and trying to help himself is the highly Corrupt Cop Virgil Kane (Sean Pertwee).
Thus McElroy is forced to team up with his British contact and find a way to both survive and profit from the debacle.
---
This film contains examples of:
---