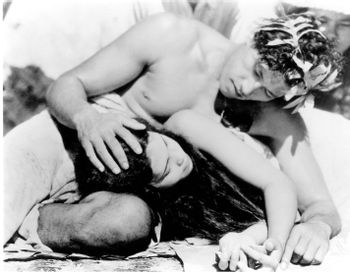 Tabu: A Story of the South Seas (1931) is the last film directed by F. W. Murnau. It is a tragic love story set in the south Pacific.
Reri and Matahi are young lovers enjoying life on the island of Bora Bora. Their happiness is interrupted when a messenger named Hitu, dispatched by the "lord of all the islands", arrives. Hitu brings a message from the king that the sacred virgin woman of the island of Fanuma has died, and that Reri has been selected to take her place, Reri being a virgin of noble blood. This is not good news: "man must not touch her or cast upon her the eye of desire", on pain of death.
Matahi, distraught at the prospect of losing Reri forever, kidnaps her from Hitu's boat. They make their way to an island run by the French, and Matahi gets a job as a pearl diver. He's good at it, but he doesn't know how to handle money. And worse, Hitu is after them.
Tabu was a silent film. The rest of the American motion picture industry had abandoned silent films completely by 1929, but Murnau, who had nothing but contempt for talkies, set sail for Tahiti, and paid for the film himself. He used Tahitian natives for both his cast and his crew, except for cinematographer Floyd Crosby, who won an Academy Award for his work.
Murnau was killed in a car accident in California in March of 1931, one week before Tabu premiered.
Compare White Shadows in the South Seas, a film shot three years before this one in the same place, dealing with many of the same themes. Compare Tanna, made 84 years after Tabu and set in Melanesia instead of Polynesia, but also dealing with young islanders, Star-Crossed Lovers, who defy the will of their chief.
---
Tropes: