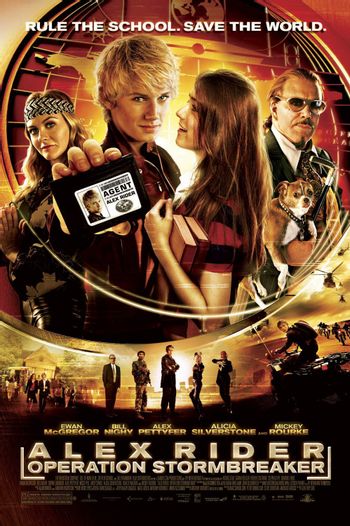 Stormbreaker is a 2006 spy film directed by Geoffrey Sax, based on the first installment of Anthony Horowitz's Alex Rider young adult novel series. In the U.S., the film was promotionally named Alex Rider: Operation Stormbreaker.
The film follows Alex Rider (Alex Pettyfer), a teenage boy recruited by MI-6 after his uncle Ian (Ewan McGregor) — who claimed to Alex that he was a bank manager but is actually a secret agent — is killed in action. He is sent to investigate the distribution of free megacomputers codenamed Stormbreaker to schools across Britain by billionaire Darrius Sayle (Mickey Rourke), who may have less-than-amiable motivations.
Stormbreaker was intended to be the first in a series of Alex Rider films that was promoted with potential of being the next Harry Potter, with Horowitz even writing a screenplay for the next book in the series, Point Blanc, before the film came out.
Then the film actually did come out, and its poor box office returns and lukewarm-at-best critical reception effectively dashed all hopes of a sequel, let alone a series.
The blame for the film's outcome has retrospectively spread over multiple parties. Horowitz came to regret his overconfidence in the idea and admitted that the movie was a "mistake", but has also attributed at least some of the film's flopping to its lack of sufficient distribution in America, namely not getting a wide release. He would also go on record stating that since the novels don't translate well to a cinematic format, any plans of future films are dead and gone.
The possibilities granted by a television format, however, did leave room to pick up where the film left off, and a second adaptation of the novels now exists in the Alex Rider programme, which premiered in 2020.
---
Tropebreaker:
---