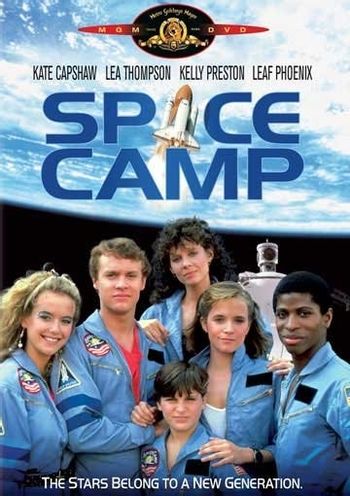 "My god...we have lift off."
SpaceCamp is a family adventure movie from 1986 about a group of kids at the titular real life U.S. SpaceCamp who unexpectedly get launched up into space for real. However the shuttle was still in pre-flight prepping and thus wasn't prepared for any kind of full mission. With only a limited air supply and virtually no communication with Earth, the kids and their instructor (played by Kate Capshaw) must work together to get home safe and sound.
It was released amid a marketing nightmare that came about from the 1986 Challenger shuttle disaster that claimed the lives of seven American astronautsnote Including a civilian school teacher. and grounded the shuttle program indefinitely until the cause could be determined and rectified. It didn't help, either, that the malfunction in the film partly resembled the malfunction in life.
Many contemporary reviews were colored by the disaster. More recent reviews don't treat it much better. But some saw past the disaster and were moved by it: in a 2012 interview,
Lea Thompson said many fans told her they were inspired by the film.
---
SpaceCamp provides examples of:
---