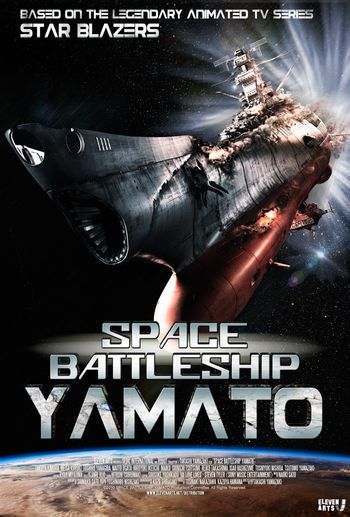 A 2010
Live-Action Adaptation
of the 70s
anime of the same name
.
In the year 2199, Earth is on the losing side of a five year war with an alien race they only know as the Gamilas. The humans do not know what the enemy wants, in fact, they don't even know what they look like, or why they first started bombarding Earth with radiation bombs. The movie opens with a fleet of Earth Defense Force starships commanded by Captain Jyuzo Okita formed up to launch a major attack on a Gamilas fleet off Mars. Their massive opening salvo does negligible damage, and the responding salvo from the Gamilas fleet leaves the Earther fleet in tattered ruins. A younger Captain, Mamoru Kodai, insists that Captain Okita save himself and his ship, and uses his own crippled destroyer to shield Okita from the next salvo, despite Okita's pleas for the younger officer to save himself.
Okita returns to the red, irradiated, barren world of Earth, where the surviving population lives in cramped shelters deep underground, and some brave the surface to scavenge for useful materials. One such person is Susumu Kodai, who has a brother in the EDF that sends him luxury supplies in trade for the materials he finds. While out on Earth's surface scavenging and snarking at his Analyser, he is nearly flattened by an object that comes streaking out of the sky to land at his feet. Stunned to see that he is still intact, he picks up the strange object just as an EDF ship appears overhead, tracking the object's descent.
After studying the device, the EDF finds schematics for a powerful engine and weapon, and proceed to build a ship around it, which Okita requests to take on a mission to find Iscandar, in order to retrieve an anti-radiation device to save the Earth. His request is approved, and a call for volunteers goes out, taking on surviving EDF officers, retired veterans, and civilians with spacer experience, including one Susumu Kodai, who has it in for Captain Okita after learning how his brother Mamoru died. The question becomes whether this new ship, built from the remains of a World War II battleship, will succeed in finding Iskandar and returning to Earth with the anti-radiation device in time to save her.
---
Space Battleship Yamato contains examples of the following tropes: