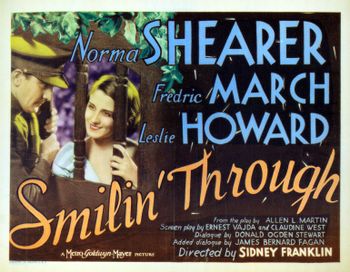 Smilin' Through is a 1932 film directed by Sidney Franklin, starring Norma Shearer, Fredric March, and Leslie Howard.
Sir John Carteret (Howard) is an English lord who, in 1898, still mourns his lost love, the ridiculously named Moonyeen Clare (Shearer), who tragically died thirty years before. His good friend Dr. Owen brings to him Moonyeen's five-year-old niece Kathleen, orphaned after her parents were killed in a shipwreck. Sir John is reluctant but after meeting the girl, takes her in as his ward.
Cut forward to 1915 and Kathleen is a grown woman (also played by Norma Shearer). She has a Meet Cute with a handsome young American, Kenneth Wayne (March), who has inherited the neighboring property, and has arrived in England as a volunteer joining the British Army for World War I. Sir John is utterly horrified to hear this, and is forced to tell Kathleen the story of her aunt's death. Turns out that Moonyeen was murdered during her wedding to Sir John, fatally shot by a rejected suitor — Kenneth Wayne's father Jeremy (also played by March).
Smilin' Through was based on a 1919 stage play. It had been previously adapted as a silent film in 1922 and was adapted again in 1941 by Frank Borzage as a vehicle for Jeanette MacDonald.
---
Tropes:
---