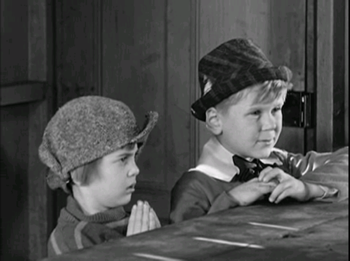 Skippy is a 1931 comedy film directed by Norman Taurog, starring Taurog's nephew Jackie Cooper (the biggest child star of the pre-Shirley Temple era) and Robert Coogan (the younger brother of another early child star, Jackie Coogan of The Kid fame). It was adapted from a newspaper comic strip of the same name created by Percy Crosby.
Skippy (Cooper) is the only son of Dr. and Mrs. Skinner, a wealthy family in town; Dr. Skinner is also head of the local Board of Health. In that capacity, Dr. Skinner is responsible for the shantytown across the railroad tracks, one that no doubt has grown in size due to The Great Depression. Dr. Skinner wants to see the shantytown demolished and the people driven out.
Skippy however likes to go play in the shantytown, despite his father's stern warnings to not go there. One day he meets a little boy named Sooky (Coogan) who lives in a typical tumbledown shack in the shantytown, but has a cute dog that Skippy likes. Unfortunately Sooky doesn't have a license for the dog—the license that Dr. Skinner as head of the Board of Health says they have to have—because his family can't afford the $3 for a fee. When the mean-spirited dogcatcher confiscates the dog, Skippy and Sooky have three days to somehow scrounge up three dollars before the dog is put down.
This pleasant but unmemorable film somehow received four Academy Award nominations, including Best Picture, Best Director for Taurog, and Best Actor for Jackie Cooper. Taurog and Cooper still hold the records for youngest person to ever win the Best Director award (Taurog was 32) and youngest person to ever be nominated for a Best Actor award (Cooper was nine). Until 2018 film Black Panther, Skippy was the only film adapted from a comic strip, comic book, or graphic novel to ever be nominated for Best Picture.
Followed later that same year by a sequel, Sooky, again starring Cooper and Coogan.
---
Tropes:
---