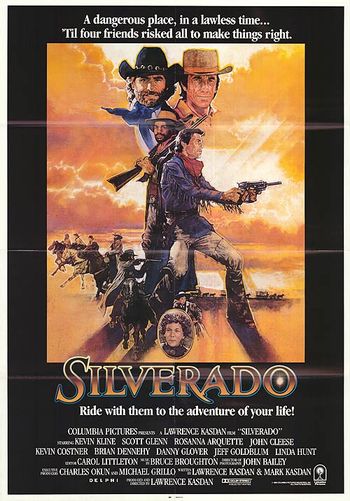 Posse Member: Let's go, he ain't hittin' nothin'!
Sheriff Langston: You idiot, he's hit everything he's aimed at!
Posse Member: Well, they ain't out of our jurisdiction 'til they reach the flattop!
Sheriff Langston: [rising in his saddle, until his hat is shot off] Today, my jurisdiction ends here.
Silverado is a 1985 Western film that's something of a Reconstruction of the genre. Released in the theaters July of that year, it was directed by Lawrence Kasdan and starred many well-known (or soon to be well-known) actors, including Kevin Kline, Danny Glover, Scott Glenn, Kevin Costner, Jeff Goldblum, Brian Dennehy, Rosanna Arquette, and John Cleese.
The basic plot: In 1880, four men travel together to the city of Silverado. They come across many dangers before they finally engage the "bad guys" and bring peace and equality back to the city.
---
This film contains examples of:
---