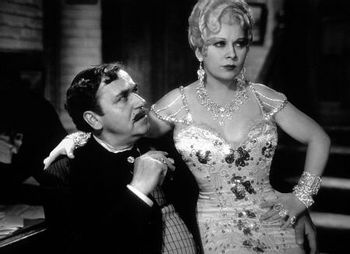 "Why don't you come up sometime and see me?"
She Done Him Wrong is a 1933 film from The Pre-Code Era starring Mae West and Cary Grant, set in The Gay '90s, and directed by Lowell Sherman. West is Lady Lou, a bawdy singer who works in the Bowery saloon owned by Gus Jordan. She's also his kept woman. Unbeknownst to Lou, Jordan is deeply corrupt, involved in prostitution and running a counterfeiting operation. Lou is fending off the attentions of Dan Flynn, a former lover who is looking to take both Lou and the saloon away from Jordan. She is also fending off the attentions of Chick Clark, yet another former lover who is in prison for stealing diamonds for Lou, and is demanding from jail that she stay faithful to him. At the same time Lou is attracted to Captain Cummings (Grant), who works at the charity mission next door to the saloon.
She Done Him Wrong was West's second film and Star-Making Role. It was an adaptation of her own stage play, and she received story credit. For decades afterward West claimed credit for making Cary Grant a star as well, but Grant had already been in several films, including a starring role in Blonde Venus opposite Marlene Dietrich.
This film, with its wall-to-wall double entendres and winking sexual euphemisms, led to a backlash from the Moral Guardians, and the strict enforcement of The Hays Code in 1934. (West's next film, I'm No Angel, also played a part.)
At a length of only 66 minutes, She Done Him Wrong is the shortest film to ever get an Academy Award nomination for Best Picture.
---
Tropes: