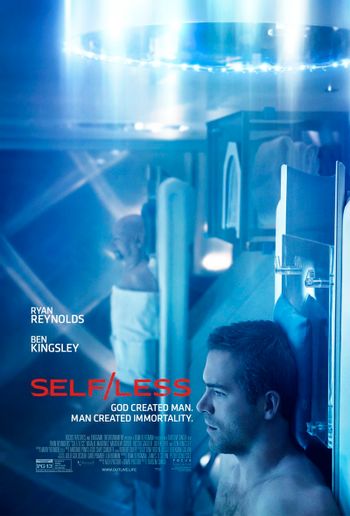 Self/Less is a 2015 film directed by Tarsem Singh and starring Ryan Reynolds, Ben Kingsley, Natalie Martinez and Matthew Goode. 20 Minutes into the Future, Damian Hale (Kingsley), an insanely wealthy real estate mogul, is dying from cancer. Following the lead of a business card he's slipped, Damian finds out about a process called "shedding", which will put his mind in an artificially-grown younger body (Reynolds). Afraid of dying, Damian agrees.
Unfortunately, the new body comes with a lot of hallucinations of locations and people. Albright, the head of the shedding process, assures Damian that this is normal and gives him medication to help with it. Damian is convinced there's more to the hallucinations than that. Cue the discovery of a dark secret behind the process of shedding...
---
Self/Less provides examples of:
Albright considering that he

shed himself into his assistant's body and that when push came to shove, he'd kill his own well-paying clients in order to protect his operations and continue his work.
It's A Small Net After All: Subverted. Every time Damian Googles something, the related search options are always shown. When he searches for "shedding", he has to specify that it's "shedding medical". When he Googles the visions he has during his seizures, it takes a few attempts to refine the search to what he wants.

When he searches for information on the medicine he takes for the seizures, searching for "shedding medication" just gets him information on shedding for animals.

Just Think of the Potential!: One of the reasons

Albright pushes forward with shedding, despite the cost, is because he argues that the benefits of saving brilliant minds make it worthwhile.

Karmic Jackpot:

Mark Bitwell dies so that his daughter can survive. At the end of the movie, he wakes up to find that he's in the Caribbean, the person who bought his body died so he can live, and his family's waiting for him.
Showing Off the New Body: After being put in the new body, Damian's montage of learning to control it is intercut with a scene of him walking up to a mirror and admiring his new appearance.
---