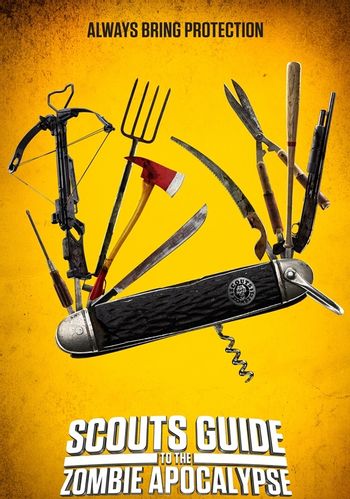 "The police? They're gone. The military? They're not coming, either. Guys, we're the last line of defense."
—Ben Goudy to his fellow Boy Scouts
Scouts Guide to the Zombie Apocalypse is a horror-comedy film released in October 2015 by Paramount, and directed by Christopher Landon.
Ben Goody (Tye Sheridan), Carter Grant (Logan Miller), and Augie Foster (Joey Morgan) have been best friends and scouts since childhood, at the expense of being mocked by most of the other high school kids. Although Ben and Carter want to give up the scouts' life, even if Augie isn't ready, they're forced to use all their training and skills to survive when their town is overrun by zombies on the night of a crazy party. The three scouts, with some help from a tough-as-nails waitress named Denise (Sarah Dumont), set out to reclaim their town from the zombies and save Carter's sister and Ben's secret crush, Kendall (Halston Sage), at the same time.
The film was originally slated for a 2014 release but was delayed until Halloween the following year.
---
This film contains examples of:
---