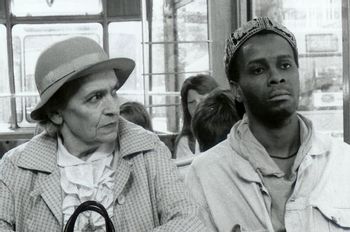 Schwarzfahrer is a 1994 Oscar-winning German ten-minute short, directed by Pepe Danquart. It promotes racial tolerance.
A young black man sits next to an old lady on a Berlin bus. This prompts the old lady to go on a very nasty racist screed about how the country's being flooded with illegal immigrants who take all the jobs and won't learn German customs. She then receives some Laser-Guided Karma.
The German term "Schwarzfahrer" means "fare dodger", but with can be read literally (with some license) as "black passenger" (black used here in the sense of illegal). The title therefore is a pun, as it plays in a tram in Berlin.
It can be watched on YouTube
(or, if you prefer it recapped for you, see the recap page).
---
This short shows examples of:
---