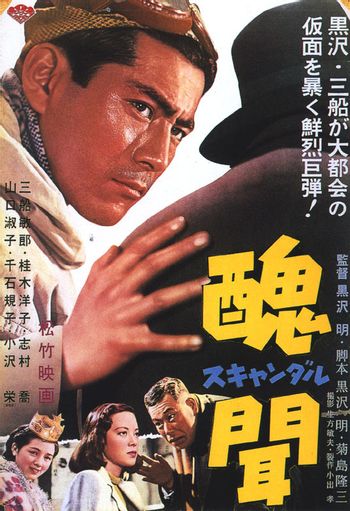 Scandal (醜聞, aka Shubun) is a 1950 film from Akira Kurosawa, starring Toshiro Mifune.
Ichiro Aoye (Mifune) is an artist who paints both models and still lifes. While painting a mountain by the side of a country road one day, he runs across a lovely and famous young singer, Miyako Saijo, who is hoofing it after missing her bus. They are both headed for the same town so he offers her a lift. Ichiro and Miyako get separate rooms in a hotel and their relationship is entirely platonic, but when he enters her room for a chat they are photographed by paparazzi from the gossip magazine Amour. The gossip rag then runs a story claiming that Miyako had an affair.
An outraged Ichiro sues for slander. He makes the rash decision to hire as his lawyer one Hiruta, an obviously third rate attorney whose "office" is a wooden shack on a rooftop, mainly because he sympathizes with Hiruta's tubercular, terminally ill daughter Masako. This decision becomes even more ill-advised when Hiruta, desperate for money to help his daughter, takes a bribe from Amour's sleazy publisher to tank the case.
Second pairing of Kurosawa and Mifune, after Stray Dog. Takashi Shimura, who plays the weak, pathetic Hiruta, made a very different impression a few years later as badass samurai Kambei in Kurosawa's The Seven Samurai.
Not to be confused with 1989 film Scandal, which is about the Profumo Affair, a Real Life 1963 sex scandal in Britain.
---
Tropes:
---