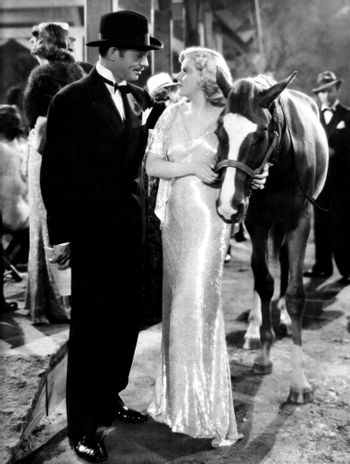 Saratoga is a 1937 film directed by Jack Conway, starring Clark Gable and Jean Harlow in their sixth and last film together.
Harlow is Carol Clayton, daughter of a family of horse breeders and trainers, who is just coming back from Europe after getting engaged to super-rich Hartley Madison. Unfortunately her father Frank Clayton is a gambling addict who has become deeply in debt to bookmaker Duke Bradley (Gable). Frank hands over the deed to the Clayton horse ranch to Duke in order to cover his debts. Duke has no intention of actually taking over the ranch, as he likes the Claytons, and especially crotchety old Grandpa Clayton the veteran horse trainer. He's also attracted to sexy Carol, but Carol assumes Duke is going to foreclose on Grandpa and asks Hartley for money to buy the ranch back. Complications and romantic hijinks ensue.
Saratoga was an MGM A-picture with an All-Star Cast that featured, along with Gable and Harlow, Lionel Barrymore as Grandpa, a young Walter Pidgeon as Hartley, Frank Morgan as Jesse Kitmeyer, and Una Merkel as Fritzl, Jesse's new wife and Duke's old girlfriend. It also features Margaret Hamilton in a small part, with the Wizard and the Wicked Witch sharing a scene two years before The Wizard of Oz.
However, the film is infamous for the sudden, shocking death of Jean Harlow at the age of 26, with the film unfinished. People in the production had observed that Harlow was looking gray and acting lethargic and was suffering from bloating (and she does in fact look puffy in the finished film). On May 29, 1937 Harlow doubled over in pain on the set and went home shortly after. MGM originally presumed that Harlow would be back on set soon, but nine days later she was dead of kidney failure, now suspected to have been ultimately caused by a bout of scarlet fever she suffered as a teenager. Louis B. Mayer initially planned to scrap Harlow's footage and re-shoot with a different actress, but fans wrote in begging to see Harlow's last film. Unfortunately the third act hadn't been filmed yet, forcing the studio to resort to a Fake Shemp to complete the story (see below).
---
Tropes used in this film:
---