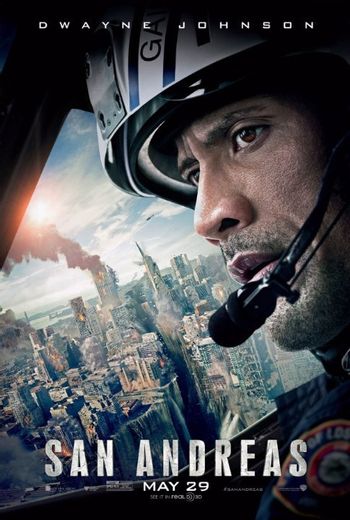 "Now, I cannot emphasize this enough to the people of San Francisco: You need to get out. And I mean now. And if you can't, you need to find any means possible to drop, cover, and hold on. Because your life is gonna depend on it. God be with you."
— Dr. Lawrence Hayes
San Andreas is a 2015 Disaster Movie directed by Brad Peyton, starring Dwayne Johnson, Carla Gugino, Alexandra Daddario, Ioan Gruffudd, Kylie Minogue, Colton Haynes, and Paul Giamatti.
The film depicts the "Big One", the fabled mega-quake that occurs in California when the San Andreas Fault shifts enough to create a massive rupture. We follow Ray Gaines (Johnson), a Los Angeles City Fire Department helicopter pilot, as he struggles to save his family during the quake.
If you're looking for the video game, see Grand Theft Auto: San Andreas.
---
San Andreas provides examples of:
---