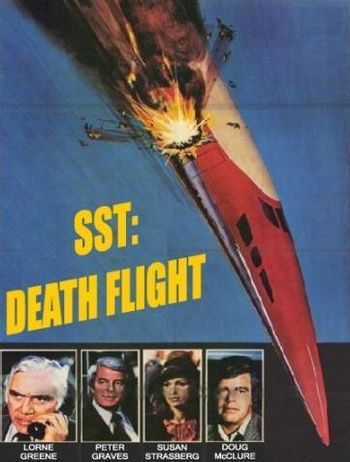 SST: Death Flight
, also known as
SST: Disaster in the Sky
,
Flight of the Maiden
and simply
Death Flight
, is a 1977
made-for-TV
airplane
Disaster Movie
. Meant to capitalize on the success of the disaster movies like the
Airport
series, it featured an
all-TV star ensemble cast
and was directed by David Lowell Rich, who went on to direct the fourth and final
Airport
movie.
The world's first commercial supersonic flight, Maiden I, is about to take off from New York to Paris, filled with a group of contest winners and crew. Unfortunately, Les Phillips (George Maharis), an engineer, fed up with being dissed by the plane's designer, Willy Bassett (Burgess Meredith), sabotages the plane's hydraulic system, causing it to malfunction during flight. And as if that isn't bad enough, Ralph Therman (Brock Peters), an epidemiologist from WHO, has the plane transport a highly infectious Senegal flu, turning the plane into a flying quarantine zone.
In the midst of all this, a whole bunch of subplots crop up. Hank Fairbanks (Doug McClure), a passenger working for an aircraft buyer company, has a grudge against the captain, Jim Walsh (Robert Reed). Said passenger used to have a relationship with one of the stewardesses. The airline's publicist is having an affair with Angela Garland (Misty Rowe), "Miss SST". And as if that isn't enough, a former sportscaster on the plane, Lyle Kingman (Martin Milner), is discussing a job change with his wife, Nancy (Susan Strasberg), and a woman, Anne Redding (Season Hubley), runs into her old boss/lover, Paul Whitley (Peter Graves), while traveling with her new lover, Bob Connors (John de Lancie).
Critically panned for its painfully standard disaster movie plot and poor production value, the film holds the dubious honor of being one of the first movies ever riffed on Mystery Science Theater 3000, getting the treatment during the show's KTMA season. For the MST3K episode, see here.
---
Tropes: