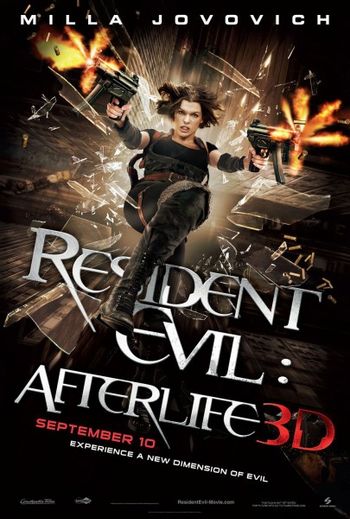 "This is borderline experimental!"
Resident Evil: Afterlife is the fourth installment in the Resident Evil Film Series. It was written and directed by Paul W.S. Anderson, who took the director's chair for the first time since the 2002 film. Afterlife takes place four years after the global T-Virus outbreak as described in Extinction. In a desperate attempt to destroy Umbrella once and for all, Alice (Milla Jovovich) carries out a large-scale assault on the corporation's Tokyo headquaters. Alice's assault leaves her without the T-Virus in her system, but also finishes off the larger remnants of Umbrella and leaves chairman Albert Wesker (Shawn Roberts) for dead.
Six months after her Tokyo assault, Alice heads to Alaska to look for Arcadia, the supposed safe haven from the T-Virus where several other survivors had headed. Alice finds an amnesiac Claire Redfield (Ali Larter) while in Alaska, but neither of them find any sign of Arcadia, so the two fly along the coast to look for another safe haven. When they reach Los Angeles, Alice and Claire find more survivors and a few unexpected surprises — including the origin of the Arcadia message...
The film also stars Kim Coates as Bennett Sinclair, Sergio Peris-Mencheta as Angel Ortiz, Spencer Locke as K-Mart, Boris Kodjoe as Luther West and Wentworth Miller as Chris Redfield.
---
Resident Evil: Afterlife contains examples of the following tropes:
---