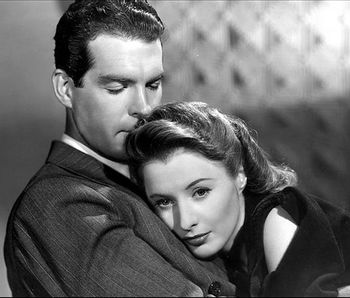 Remember the Night is a 1940 romantic comedy-drama film directed by Mitchell Leisen, written by Preston Sturges, and starring Barbara Stanwyck and Fred MacMurray.
In New York City, career shoplifter Lee Leander (Stanwyck) once again gets nabbed for swiping something; this time it's a fancy bracelet. The usual legal procedure occurs, and she thinks she might catch a break since it's the holiday season: perhaps the jurors will let her go free out of pity, and that ol' Christmas spirit. Unfortunately for her, the District Attorney, John Sargent (MacMurray), is an ace at cases such as this involving women thieves—he cooks up a scheme that postpones the proceedings until after the holidays, thus making her indictment more likely.
But something hits John as he sees Lee leaving the courtroom—angry, dejected, facing the prospect of spending the holidays alone and behind bars—and he decides to post bail for her so she can enjoy Christmas far from jail. What he doesn't expect is for the bail officer to bring her to his apartment, just as he's getting ready to start a long drive to visit his family home in Indiana.
After he buys her a warm meal and they share a dance, he discovers that she too is from Indiana. He decides to take her home, and then pick her up after New Year's. But when Lee's mother turns out to want nothing to do with her, John offers his own family home for her to stay at during the holidays. In a stark contrast with Lee's home situation, John's own mother (Beulah Bondi), Aunt Emma (Elizabeth Patterson), and Cousin Willie (Sterling Holloway) welcome her with warm, open arms. She is finally accepted somewhere, and when romantic sparks fly between her and John, things begin to get more complicated.
The first of the four films made with Stanwyck and MacMurray as the two leads, this was also the film that drove Sturges, who was furious at how Leisen kept changing his script, to start directing his own pictures.
Not to be confused with A Night to Remember.
---
This work contains the following tropes:
Sugar-and-Ice Personality: From flashes of rage, to her quiet, lovely moments, Lee is the epitome of this trope.
Through His Stomach: Mrs. Sargent helps Lee how to make popovers, but tells John that Lee made them herself. Swiftly lampshaded by Lee.
You Can't Go Home Again: Lee's return to her mother's house ends abruptly when her hateful, bitter mother throws her out.
---