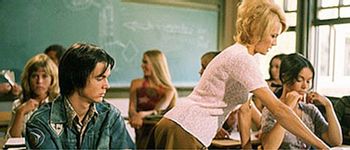 "One thing you can say about 'Pretty Maids All in a Row.' Rock Hudson sex comedies sure have changed since 'Pillow Talk.'"
Pretty Maids All in a Row is a 1971 American Black Comedy film starring Rock Hudson and Angie Dickinson.
A young man with the ridiculous name of Ponce de Leon Harper (John David Carson) is a sexually frustrated senior at Oceanfront High School. He is driven to distraction by all the nubile, scantily clad females at sexually liberated Oceanfront High, where apparently all of the girls are Ethical Sluts, but none of them have time for him. He is even more bothered by the innocent but incredibly sexy new teacher, Betty Smith (Dickinson). Ponce has a talk with the handsome, confident Michael "Tiger" McDrew (Hudson), the guidance counselor and head football coach. Tiger takes a liking to awkward young Ponce and decides to help him gain some confidence and believe in himself enough to approach girls.
Does this sound like a standard high school Sex Comedy along the lines of Class, Porky's, or American Pie? Well, in a way it is, but two things make it different:
Tiger is himself bedding the hot young girls at the school, by the truckload.
A Serial Killer is stalking the halls of Oceanfront High, leaving the bodies of dead girls in suggestive positions.
This blackest of black comedies boasts a remarkable cast that includes, aside from Hudson and Dickinson, stars like Keenan Wynn (as an utterly incompetent sheriff), Telly Savalas (as Surcher, the detective investigating the murders – two years before he was cast in Kojak), and Roddy McDowall (as the bumbling, buffoonish principal). It was directed by Roger Vadim, who had gotten famous in France for directing similarly naughty films like And God Created Woman or Barbarella. It was produced and written by none other than Gene Roddenberry of Star Trek fame. James Doohan, who played Scotty on Star Trek, has a part as Savalas's partner, and for once does not have to fake a Scottish accent.
---
This work exhibits the following tropes: