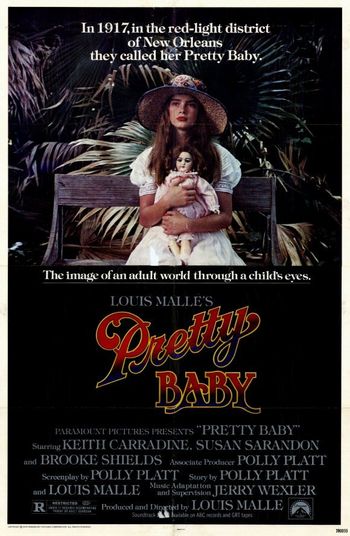 Pretty Baby is a 1978 drama film. It was the American debut of French director Louis Malle and it was also the Star-Making Role for then-child actress Brooke Shields. The movie is best known for its controversial content and subject matter.
New Orleans, 1917. In the Red Light District of Storyville, twelve-year-old Violet (Brooke Shields) is the Daughter of a Whore. Said whore is her mother Hattie (Susan Sarandon) and they live in a luxurious brothel run by Madam Nell (Frances Faye). One day, photographer E. J. Bellocq
(Keith Carradine) shows up at the brothel. Violet is fascinated by this man who pays to spend time with the prostitutes, but only to take pictures of them.
Madam Nell decides it's time to have Violet's virginity auctioned off. (Because twelve is old enough, right?) Meanwhile, Hattie escapes her life of prostitution by marrying a client and moving to St. Louis. There's just one little catch: she might have happened to claim that Violet was her sister rather than her daughter. She'll be coming back for Violet after she breaks the news to her new husband, but for now Violet will remain in the whorehouse. Bellocq is outraged by this arrangement, but Violet is now one of the whores so far as Madam Nell is concerned.
As you can gather from the synopsis, the film was highly controversial when it was released. Brooke Shields was twelve years old playing a child prostitute, and appeared nude on camera. Much like the novel Lolita it gained a significant reputation as an endorsement of child pornography - but is in fact an accurate representation of the times.
---
Tropes:
---