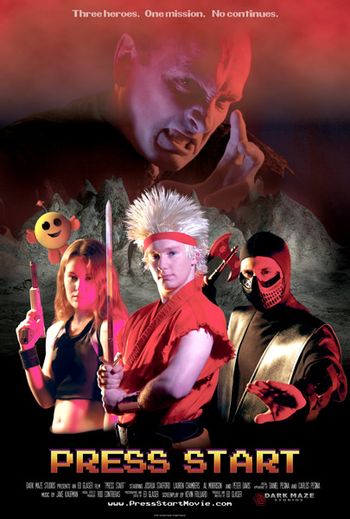 Zack: Why'd you let him hit you?
Sam: It was his turn.
Press Start is an independent spoof comedy film produced by Dark Maze Studios.
It chronicles the adventures of Zack Nimbus, the 'Chosen One', Lin-Ku, an overly violent Ninja, and Sam, a woman warrior in a spacesuit. They set out to find the three ancient relics and battle The Empire ruled by the nefarious Count Nefarious Vile and they spoof more video games than you can count along the way. Featuring special appearances by game actors Daniel and Carlos Pesina (Mortal Kombat) and music by videogame composer Jake Kaufman (Contra 4). Made on a budget described as "spare change placed in a mayo jar," the film was well received by many video game websites. It even spawned an Animated Adaptation series which premiered on Channel Awesome, and a sequel, Press Start 2 Continue was released in March 11 2011.
According to the production notes (available in PDF on the website
), the original concept by Ed Glaser was Videogame: The Movie! - like the Scary Movie series, only funny. It was written by Kevin Folliard. The truly great thing is that everyone involved in the movie has either worked on games or is a hardcore fan, so naturally the movie is Troperiffic. Plus, most of them are accomplished martial artists that raised the level of fight scenes in the movie. The incredibly low budget was worked around thanks to the extremely committed and versatile team.
So sit back, relax, and get ready for some cheesy video game laughs. Just Press Start.
Recap here: Recap.Press Start
Has nothing to do with book series of same name, thought it also has to do with video games.
---
This film provides examples of:
---
---
Press Start 2 provides examples of
---