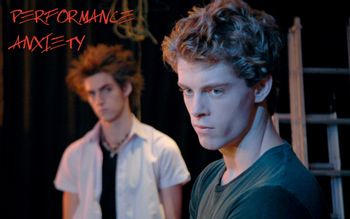 Performance Anxiety is a 2008 Australian film that stars Luke Mitchell (plays Peter Koliat) and Joss Mars (plays Jeff Spencer) as two gay partners who couldn't be more different. Peter is a tidy, almost obsessive, office worker and Jeff is a messy, hippy musician. The movie shows them trying to connect with each other as well as showing how they spend their day apart.
If you are wondering why you've never heard of this film before, it may be because it has surprisingly kept itself from going online (i.e. being made available for illegal streaming or downloading) and is only available on a singular website that you would likely not find unless you were looking for it.
You can watch the trailer and buy the movie (DVD and Blu Ray) here
.
Not to be confused with the 2012 short film of the same name.
---
This show provides examples of:
---