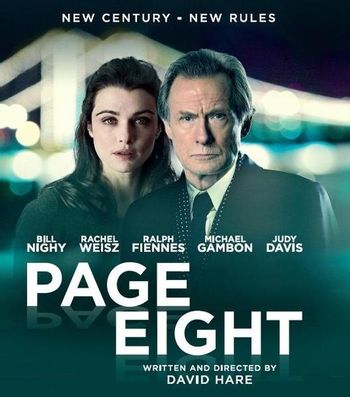 A 2011 British Conspiracy Thriller that aired on BBC Two, written and directed by David Hare. It is the first instalment of three television films that make up The Worricker Trilogy.
It stars Bill Nighy as Johnny Worricker, a veteran MI-5 intelligence analyst, and Michael Gambon as Sir Benedict Baron; the Director-General of MI-5 and Johnny's closest friend. When information is received that suggests the British Prime Minister had knowledge of secret overseas prisons he didn't share with the intelligence community, Worricker must decide between his personal beliefs and allegience to his country. At the same time, he becomes acquainted with his Syrian-born neighbour (played by Rachel Weisz), who has a dark past and he fears may be exploiting his connections.
The film was followed by two sequels released in 2014: Turks & Caicos and Salting the Battlefield.
This show contains examples of: