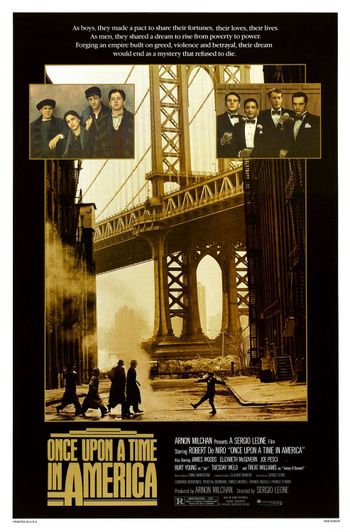 "You see, I have a story too, Mr. Bailey. I had a friend once. A dear friend. I turned him in to save his life. He died. But he wanted it that way. Things went bad for my friend, and they went bad for me, too."
— David "Noodles" Aaronson
Once Upon a Time in America (also known as C'era Una Volta in America) is a 1984 epic crime film directed by Sergio Leone, in his last film in the director's chair, loosely based on the novel The Hoods by Harry Grey, starring Robert De Niro, James Woods, and Elizabeth McGovern.
The film, which centers around a Jewish-American gangster named David "Noodles" Aaronson, spans five decades (and nearly four hours), and is framed as an elaborate flashback sequence. It's also notable for being a victim of an especially despicable version of Executive Meddling, and what could be held as the second worst example of it to a film during the 80s (the other being Brazil.) Basically, if you're not watching the director's cut, you're not watching the complete version.
The film had a very long gestation process. Leone wanted to make America as early as 1967, but was unable to secure financing, or the rights to Grey's novel. He first approached Paramount with the project; they offered him Once Upon a Time in the West instead. Later, he declined a chance to make The Godfather because he preferred The Hoods. Throughout the '70s, Leone courted Hollywood studios, oversaw several screenplays by different writers, and even cast actors like Tom Berenger and Richard Dreyfuss at various points. He offered directing chores to John Milius, planning to produce, but Milius opted to make The Wind and the Lion instead. Eventually, Leone interested Robert De Niro and independent producer Arnon Milchan; the film finally went in production in 1982 and wrapped two years later.
While even the original European release had some content cut for time by Leone himself at the behest of distributors, Executive Meddling by its production studio The Ladd Company led to the US version of the movie having over an hour's worth of content removed, and scenes rearranged to be in chronological order. The re-edited version was a disaster from a critical and a commercial standpoint, with critics standing by Leone and attacking The Ladd Company as they felt that the recut was an insult to his legacy and it made back only $5 million of its $30 million budget. But thanks largely to the 229 minute European release being made available on DVD in 2003, helping popularize the concept of the "director's cut", it's now widely regarded as a cinematic masterpiece. A further extended cut, using rescued footage and running 251 minutes, was released on DVD and Blu-ray in 2014.
---
This film contains examples of:
---