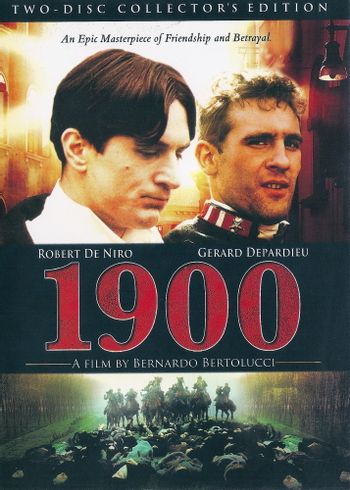 1900 (Italian: Novecento) is Bernardo Bertolucci's first Epic Movie (The Last Emperor is his second), released in 1976.
On the same day and practically at the same moment, on a wealthy pastoral estate in turn-of-the-century Italy, January 27, 1901; two boys are born. Alfredo Berlinghieri (Robert De Niro) is the grandson of the estate's padrone (patriarch). Olmo Dalcò (Gérard Depardieu) is the bastard grandson of the estate's head labourer. As children, the two develop an unlikely but close friendship. As they grow up together, Olmo becomes a socialist; however it is Fascism that manages to gain a foothold in the country. Alfredo does not, in turn, strictly become a fascist himself. In fact, he is somewhat distasteful of the ideology and adherents of it, such as his father. Nevertheless, over the years the friendship of the two men, representing the Italian lower and upper classes respectively, is tested; as the country undergoes both World Wars, as Alfredo's father hires the sadistic, anti-communist Attila Mellanchini (Donald Sutherland) as his foreman as the film charts 45 years of Italian history.
The film's $6 million budget was supplied by three different sources: $2 million each from United Artists, Paramount, and 20th Century Fox. Even then, it went over-budget by $3 million. Its All-Star Cast includes Burt Lancaster, Sterling Hayden, Robert De Niro, Donald Sutherland, Gérard Depardieu and Dominique Sanda. It's scored by Ennio Morricone. Over 12,000 extras were employed.
A particular note about the title. In English, "Novecento" literally means "1900" but as Bertolucci confirmed in interviews, this is a misunderstanding. In Italian dating conventions, Novecento signifies "the nineteen-hundreds" and not the year nineteen-hundred. A more apposite English equivalent would be "The 20th Century".
---
This film provides examples of:
---