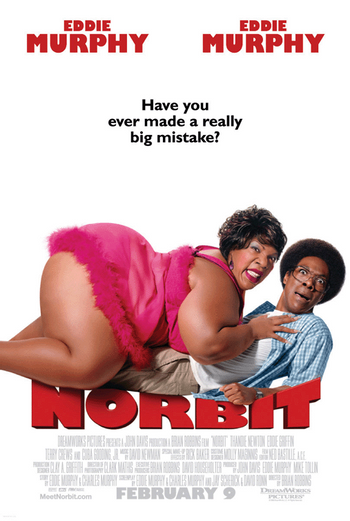 Norbit
is a 2007 comedy film, directed by Brian Robbins and starring
Eddie Murphy
in both leading roles,
a la
The Nutty Professor
.
The film opens with Norbit Albert Rice's (Murphy) parents throwing him to the front of an orphanage from the car door as a baby. Norbit grows up there, which is run by a stereotypical Asian man who cannot pronounce "L" (also played by Murphy). He falls in love with fellow orphan Kate Thomas (Thandiwe Newton) and the two, as children, eventually pretend to marry each other with Ring Pops under a tree. Eventually, the two are separated when she is adopted.
Not long afterward, Norbit meets self-centered, domineering, evil Fat Bitch Rasputia Latimore (ALSO played by Murphy), who comes from a family of black racketeers. Norbit wallows in misery while being married to her until Kate turns up one day. As it happens, Kate is engaged to sneaky, slick-talking businessman Dion Hughes (Cuba Gooding Jr.). But Norbit is not to be dissuaded and he starts aiming to edge away from Rasputia and win Kate back, as well as foiling a sabotage plan on the orphanage constructed by Rasputia and her brothers.
---
This film provides examples of:
---