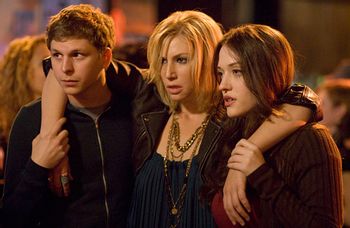 This night is winding down but time means nothing
As always at this hour time means nothing
One final, final round 'cause time means nothing
Say that you'll stay, say that you'll stay, say that you'll stay.
— After Hours, We Are Scientists
A 2008 coming-of-age film starring Michael Cera and Kat Dennings as the titular characters. Nick is the sole straight member of a Queercore band, The Jerk Offs. His girlfriend Tris recently dumped him (after cheating on him for much of their relationship their entire relationship), but he's still obsessed with her. Norah is the daughter of a record producer, an intellectual free spirit with a love of indie music. When the two meet by chance at a local New York club, Norah feels a connection. Nick...is too busy missing Tris to notice.
Nick and Norah spend most of the night together, alone and with friends, in search of a secret concert by a legendary indie band. What happens along the way could change the lives and perspectives of them both, forever.
The movie is remarkable for a quirky soundtrack comprised mostly of indie rock and several interesting side characters. In addition to Nick and Norah, we meet the other members of The Jerk Offs (Thom and Dev), Nick's ex Tris, Norah's best friend Caroline, and Beefy Guy.
Think of it as American Graffiti for the newest generation, with a very different set of music and indisputably much, much worse cars. Or a late-teenage version of Before Sunrise.
Based off a book by Rachel Cohn and David Levithan, which is also the subject of the Unshelved Book Club here
.
---
The movie provides examples of:
---