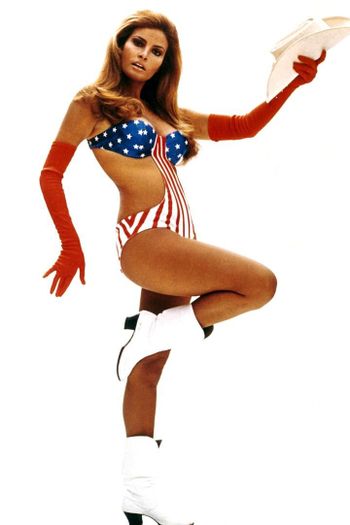 "Who is Myra Breckinridge? What is she? Myra Breckinridge is a dish, and don't you ever forget it, you motherfuckers - as the children say nowadays."
— Myra Breckinridge
A 1970 film based on the novel of the same name by Gore Vidal, it stars Raquel Welch and Rex Reed, along with Mae West and John Huston.
Mousy, neurotic Myron Breckinridge (Reed) secretly receives gender-reassignment surgery in Copenhagen and returns to Hollywood as the glamorous, charismatic Myra (Welch). Posing as her own widow, Myra Breckinridge goes to her uncle Buck Loner's acting school, claiming that Myron is dead and that she is owed half the school and a huge inheritance. To pacify her while he verifies her claims, Buck gives Myra a teaching position. But Myra has bigger plans.
Myra's ultimate goal is to save humanity from itself by destroying the entire concept of traditional masculinity, thus bringing about gender equality. She plans to do this by sleeping with a lot of people. Myra's unlikely partner-in-crime is...Myron, a mental manifestation of her former self. The two of them have already lined up Myra's first test subjects: Rusty, a young, hunky, clueless would-be actor, and his sweet, submissive girlfriend Mary Ann, who together represent the very binary Myra believes is the root of all human misery.
This synopsis makes the plot sound much, much more coherent than it actually is.
In reality, it's a psychedelic rollercoaster full of random public-domain movie clips, musical numbers, costume changes, over-the-top stereotypes, and a questionable grasp of how gender and sexuality (not to mention human beings) actually work. A legendary box-office flop, creator Gore Vidal later disowned it, the cast won't talk about it, and lead actress Raquel Welch once commented, "The only good thing about it was the clothes."
---
Myra Breckinbridge contains examples of:
---