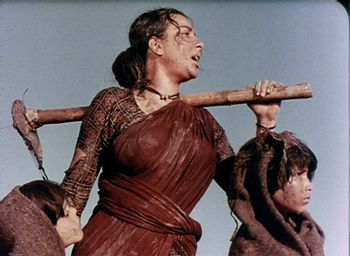 Meet India's Gone with the Wind.
Radha and Shamu are newly wed farmers who unknowingly sign unto a lifetime of poverty and desperation when they get a loan from Sukilal to pay their wedding expenses. Sukilal soon charges exorbidant interest rates which Shamu and Radha struggle to pay, under the increasing burden of four children. In an attempt to earn more money Radha and Shamu attempt to cultivate more of their land, only for Shamu to lose his arms in a farming accident. He disappears out of shame, abandoning Radha and her children.
Radha struggles on, losing her crop and two children to a flood. In a moment of desperation she flees to Sukilal's house to beg for money, only to reject him at the last moment. Soon her two surviving children grow up. Her older son Ramu soon gets embroiled in his own cycle of poverty. Her second and favorite son Birju resents Sukilal and takes out his rage by harassing Sukilal's daughter. This taunting turns serious when he tries to kill Sukilal, becomes a dacoit and vowes to kidnap Sukilal's daughter. Radha must now decide if she wants to stand against her favorite son.
---
Tropes include:
---