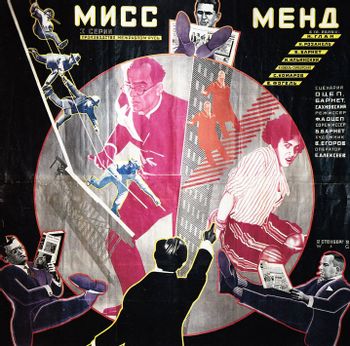 Miss Mend (aka The Adventure of the Three Reporters) is a 1926 film made in the Soviet Union.
Like most forms of Russian media at the time, Miss Mend is blatantly pro-Soviet propaganda mocking America and capitalism in general, portraying the West as a corrupt, racist Crapsack World. Despite this, there is a surprising amount of humor, or at the very least attempts at humor, making this film rather interesting to watch today, if for nothing more than the shocking Mood Whiplash and Refuge in Audacity.
Natalya Glan stars as Vivian Mend, a typist at an American cork factory that belongs to the Stern family. The Sterns lock out the workers, leading to protests outside the factory. Miss Mend tackles a cop that is about to assault a spokesman for the workers, leading to a riot outside the factory. She draws the attention of three men from the local newspaper: Barnet the reporter, Vogel the photographer, and Hopkins the dimwitted clerk. All are all enchanted by the fiery young office worker. While fleeing from the riot, Vivian jumps into a car that unbeknownst to her, is carrying Arthur Stern, scion of the Stern family. Arthur also is attracted to the beautiful Vivian.
Meanwhile, word comes from Russia that Gordon Stern, Arthur's father, has been murdered by the Bolsheviks. It turns out however that Gordon Stern isn't dead, but is in the clutches of a mysterious Organization, a terrorist group that is fighting against the Bolsheviks. Gordon Stern's wife is having an affair with the sinister Organization leader Chiche, who is behind a terrifying plot against Bolshevism and the Soviet Union.
Miss Mend was originally released as a three-part serial; the three films together add up to 4 hours and 10 minutes. While most Soviet propaganda during the Josef Stalin years was deadly serious (see Earth (1930) or any of the works of Sergei Eisenstein), this serial is light and breezy, with romantic comedy and secret agent hijinks. And while Eisenstein's films are much better remembered, at the time the Miss Mend series was hugely popular in Russia.
Co-directed by Boris Barnet and Fedor Ozep. Barnet also stars as Barnet the reporter.
---
Tropes: