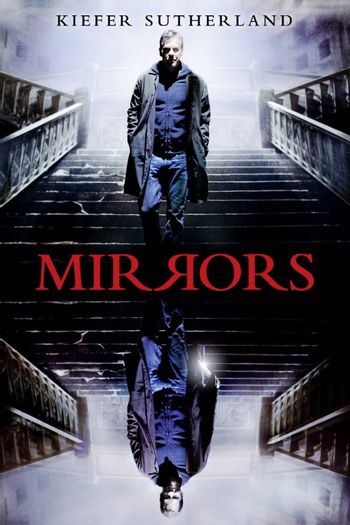 "You get a lot of suicide cases where people have slashed their own throats? Didn't think so."
Mirrors is a 2008 horror film directed by Alexandre Aja, and stars Kiefer Sutherland. The film was first titled Into the Mirror, but the name was later changed to Mirrors. Filming began on May 1, 2007, and it was released in American theaters on August 15, 2008.
The film was originally scripted as a straightforward remake of the 2003 South Korean horror film Into the Mirror, which is rated PG. However, once Aja was brought on board and read the script, he was dissatisfied with the particulars of the original film's story. He decided to retain the original film's basic idea involving mirrors, and to incorporate a few of its scenes, but otherwise crafted a new story and script for his version of the movie. Mirrors is the first Aja film to achieve an R rating without the need for scenes to be cut.
The movie follows Ben, a former police officer, as he takes an overnight security guard position in a burned-down department store. As might be expected, an evil force in the mirrors takes the form of your reflection, and whatever harm it imposes on itself happens to the real person. Now Ben has to figure out how to stop it before it kills his family, then him.
A direct-to-DVD sequel was released in 2010, apparently unrelated to the events of the first one. When Max, who is recovering from a traumatic accident, takes a job as a nighttime security guard, he begins to see visions of a young mysterious woman in the store's mirror.
The 1979 album by the Blue Öyster Cult, called Mirrors, is an entirely different thing even though some peculiarities of TV Tropes' formatting appear to have linked the two.
---
This film provides examples of:
---
The sequel contains examples of
---