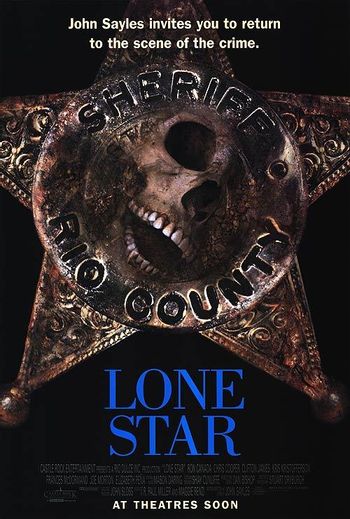 Sam: Do you have any idea who might have put him there? Other than my father.
Hollis: There's no cause for that. Wade made himself a pile of enemies over the years.
Sam: And Buddy was one of them. You know, people have this whole deal built up around my father. If it's built on a crime, I think they should know. I can understand why you'd want to think he couldn't do it.
Hollis: And I understand why you'd want to think he could.
Lone Star, directed by John Sayles, is a modern-day western that examines the relationship between past and present, morality and righteousness, and the difference between myth and reality all while tackling the issues of race, gender, social class, police brutality, international relations, and historical revisionism.
The movie takes place in fictional Rio County, Texas, bordering Mexico. 19 out of 20 people in Rio County are Mexican-American, with whites in the minority and blacks in an even smaller minority. Anglos, however, have always run the town of Frontera, but with an all-but-elected Hispanic mayor, the minority white population feels that times are changing. To make matters worse, the local military base is shutting down (to be replaced with a new for-profit prison), big-city crime seems to be on the rise, and the discovery of a half-buried skeleton in the desert threatens to reveal a past that everybody would prefer to remain buried.
In the 1950's, Rio County suffered under the brutal rule of Sheriff Charlie Wade (Kris Kristofferson), an amoral lawman who terrorized the county profiting from protection rackets, smuggling, and wholesale murder when it suited him. Wade was especially fond of preying on powerless blacks and hispanics, either sending them to "the farm," or killing them in cold blood with impunity. When Deputy Buddy Deeds (Matthew McConaughey) arrives in town after a tour in the Korean War, he openly confronts the Sheriff, brazenly warning him to get out of town before he ended up "dead or in jail." The next day, Wade disappears along with $10,000 in county funds, and Rio County sees decades of peace and prosperity under Sheriff Buddy Deeds' watch.
When a rusted sheriff's badge is discovered near the above-mentioned skeleton, evidence mounts that Charlie Wade didn't go peacefully into the night. Buddy's son Sam Deeds (Chris Cooper), now Sheriff of Rio County 40 some years later, investigates and suspects that his father just might not have been the hero that everybody remembers him to be...
The film's sole Academy Award nomination was for Sayles' original screenplay.
---
Lone Star Contains examples of: