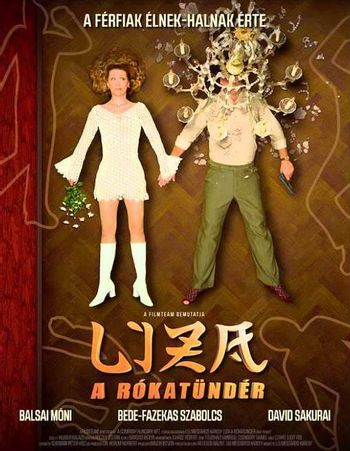 Liza a Rókatündér
(Lisa the Fox-fairy) is a 2015 Hungarian
Romantic
Black Comedy
film, directed by Károly Mészáros Ujj, starring Mónika Balsai as Lisa, David Sakurai as Tomy Tani, and Szabolcs Bede Fazekas as police Ensign Zoltán.
In a never-existed 1970's capitalist Hungary, Lisa is the house-nurse of Márta Tanaka, the elderly, heavily asthmathic widow of the Japanese ex-ambassador to Hungary. Lisa is very shy and awkward, her only companion is her Imaginary(?) Friend, the ghost of Tomy Tani, a Japanese pop-singer, who died at a young age, and whose songs are the favorites of both her and the elderly lady.
Lisa dreams of finding True Love on her thirtieth birthday, exactly how she read it in an old Japanese pulpfiction novel. When her birthday finally comes, she asks Lady Márta for two hours off so she could go out and achieve this dream. Tomy Tani however (who isn't quite as imaginary as Lisa thinks) becomes jealous, and does everything in his power to make sure Lisa doesn't succeed- killing Lady Márta as a start, and continuing with every single possible suitor.
---
This movie contains examples of the following tropes:
---