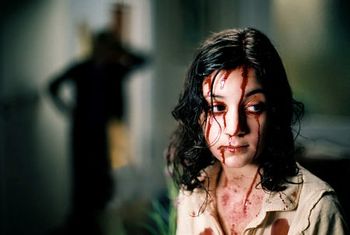 Låt den rätte komma in (Let The Right One In) is a 2008 film. It was adapted by Swedish author John Ajvide Lindqvist himself for this film version.
It's the story of Oskar, a 12-year-old boy who is being bullied at school. One night, he meets Eli, a girl who just moved in next door with her dad. However, Eli isn't affected by the cold and hates daylight, and it's quickly shown that her "dad" kills people and drains their blood to feed her. As Oskar befriends Eli and more people go missing, suspicions are raised.
Let The Right One In is most notable for being simultaneously heartwarming and horrifying. Although it has few outright scares, it can be a deeply disturbing movie, as the main characters' relationship invokes both young love and a temptation into darkness.
For tropes on the original book see, Let the Right One In. For tropes from the English-language remake, see Let Me In.
---
This movie provide examples of:
---